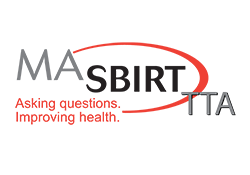 SBIRT
Screening Brief Intervention and Referral to Treatment in Schools
SBIRT in Schools workshops train school personnel in conducting verbal substance use screening of students according to MPDH and DESE guidelines.

Several training options are available to schools and school personnel:

This is one of four training workshops mandated by the Massachusetts Department of Public Health in order to be licensed as a School Nurse. It is recommended for all school personnel new to SBIRT.
MASBIRT-TTA also offers two SBIRT workshops to schools and districts seeking to enhance SBIRT skills:

SBIRT in Schools: Implementation Essentials is a skill building workshop for school health personnel directly involved in implementing SBIRT in their schools.


SBIRT in Schools: Mastering SBIRT is designed to increase confidence and skills in responding to the CRAFFT-II screening results using Motivational Interviewing (MI) techniques.


Prerequisite: Participants must have completed the mandated SBIRT in Schools course to register for this course.

For more information on these courses, visit the MASBIRT SBIRT in Schools Webpage.